In this post, we will outline the differences between the Kubecost functionality provided in EKS and the full Kubecost Enterprise platform.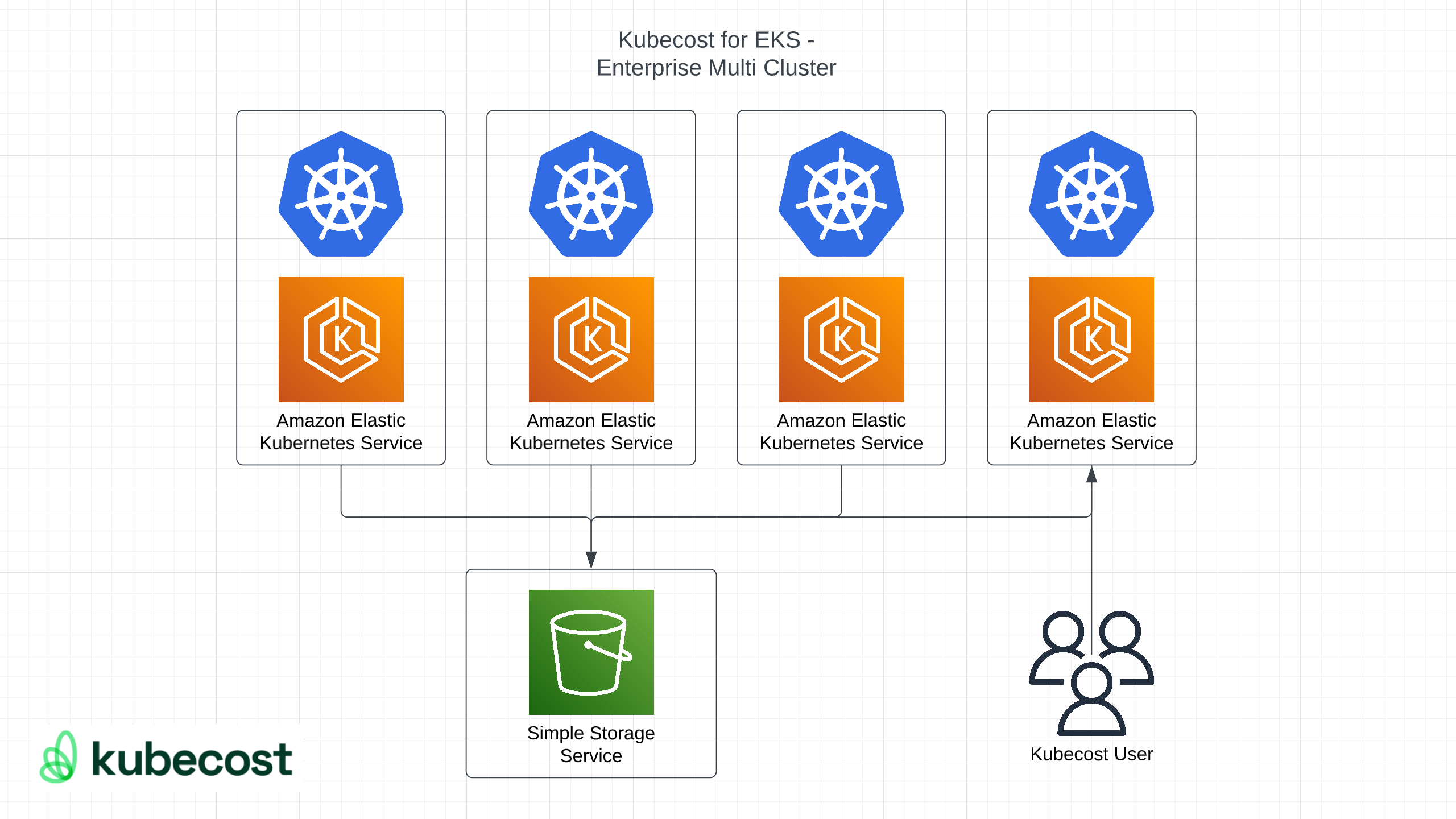 Introduction
Kubecost offers a free AWS-optimized deployment as part of a collaboration with the Amazon EKS team. Today, Kubecost for EKS provides value across three primary areas – 1. Cost visibility, 2. Optimization & Savings, and 3. Governance. The free EKS-optimized deployment of Kubecost gives you real time visibility into the last 15 days of spend, allowing for anyone running EKS to proactively monitor their Kubernetes costs on a cluster-by-cluster basis.
We're excited to see so many organizations taking charge of their Kubernetes cost management using Kubecost, with over 100,000 downloads of Kubecost for EKS to date. Although Kubecost Free is enough for many organizations, companies of a certain scale and maturity can benefit from upgrading to a Kubecost Enterprise licence.
Free EKS cost monitoring with Kubecost
The collaboration between Kubecost and AWS EKS enables customers to see what they are spending across their EKS environment in real time, for free.
View costs broken down by K8s concepts like clusters, pods, nodes, deployments, services, namespaces, labels, and more.
View costs by organizational components: View costs by business unit or internal teams via labels and annotations.
Real-time cost metrics with limited 15 day retention on a local volume.
Each cluster has its own Ingress/URL and reports, no multi-cloud federated view.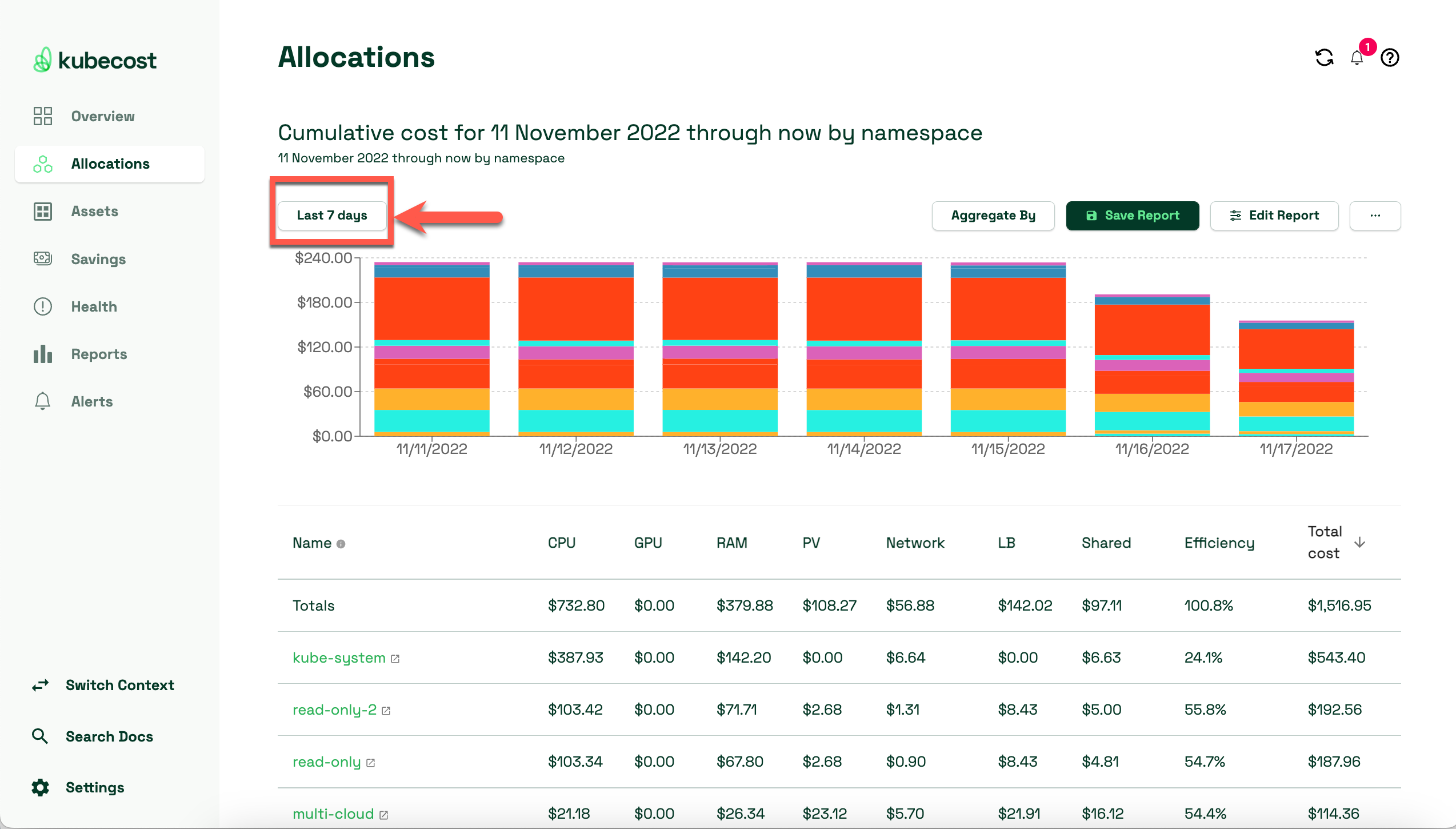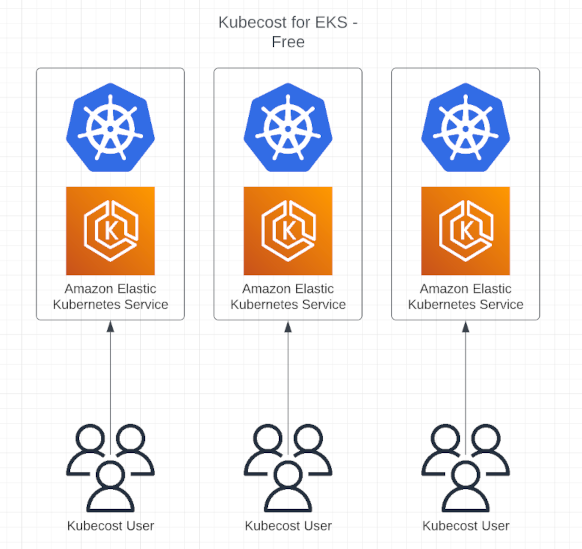 Once customers need to manage multiple EKS clusters together in one federated Kubecost setup, and need more than just 15 days of metric retention, they can see huge value by upgrading to a Kubecost Enterpise licence.
Kubecost Enterprise offers advanced optimization and governance features, allowing organizations to view the cost of multiple EKS clusters in one federated view.
Kubecost Enterprise also retains unlimited cost metrics for all clusters, collecting the metrics in a centralized durable storage location (typically via S3 bucket or via AWS Managed Prometheus).
Beyond Kubecost Free: What else can Kubecost Enterprise do?
Kubecost's free integration with EKS is just the beginning, and is designed to give users that first visibility into their real time EKS costs. With Kubecost Free, EKS users can also report on the last 15 days of cost history.
Kubecost Enterprise takes this a step further by allowing you to monitor, optimize, and track your spend beyond just the last 15 days, across all your clusters simultaneously.
By moving to unlimited metric retention, your centralized metric store provides the Kubecost Enterprise deployment with a robust data set for savings recommendations, historical trends, spend analysis, alerts & notifications, and more. Organizations can view their last month, last 30/60/90 days, and other custom time periods as their cost metric history grows.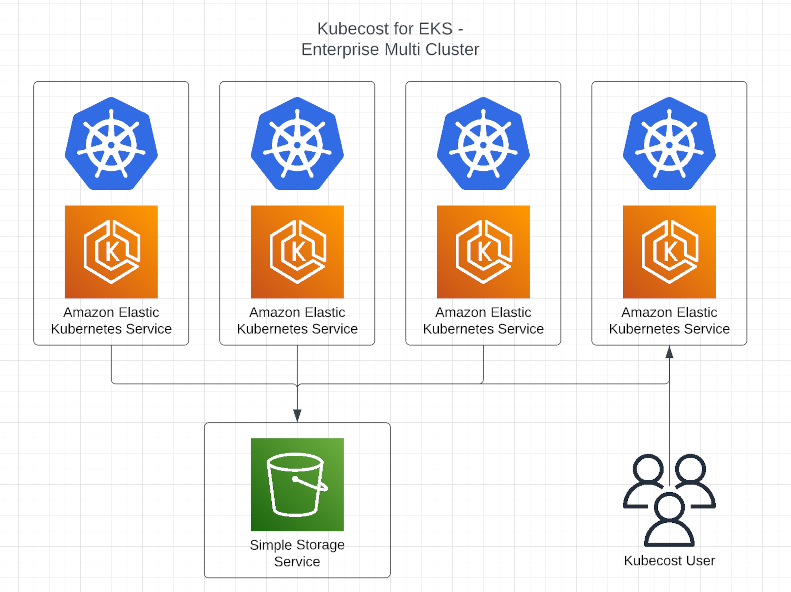 We also pair these cost metric retention features with role based access control, single sign-on, and custom integrations to create a powerful tool to drive organization-wide Kubernetes cost reductions.
Here's what you can expect from upgrading your Kubecost license to Kubecost Enterprise:
Monitor your FinOps practice over time.
Having a clear understanding of what you are spending in real time is a fantastic starting place. However, we see that many users (and their company's leadership) want to understand the trends of their Kubernetes spend over the last financial quarter, the last month, etc.
With unlimited metric retention, you can build reports and views based on a monthly, quarterly, or annual timeline. This enables your team to understand whether costs are increasing or decreasing over time, and if your cost efficiency strategies are working in the long term.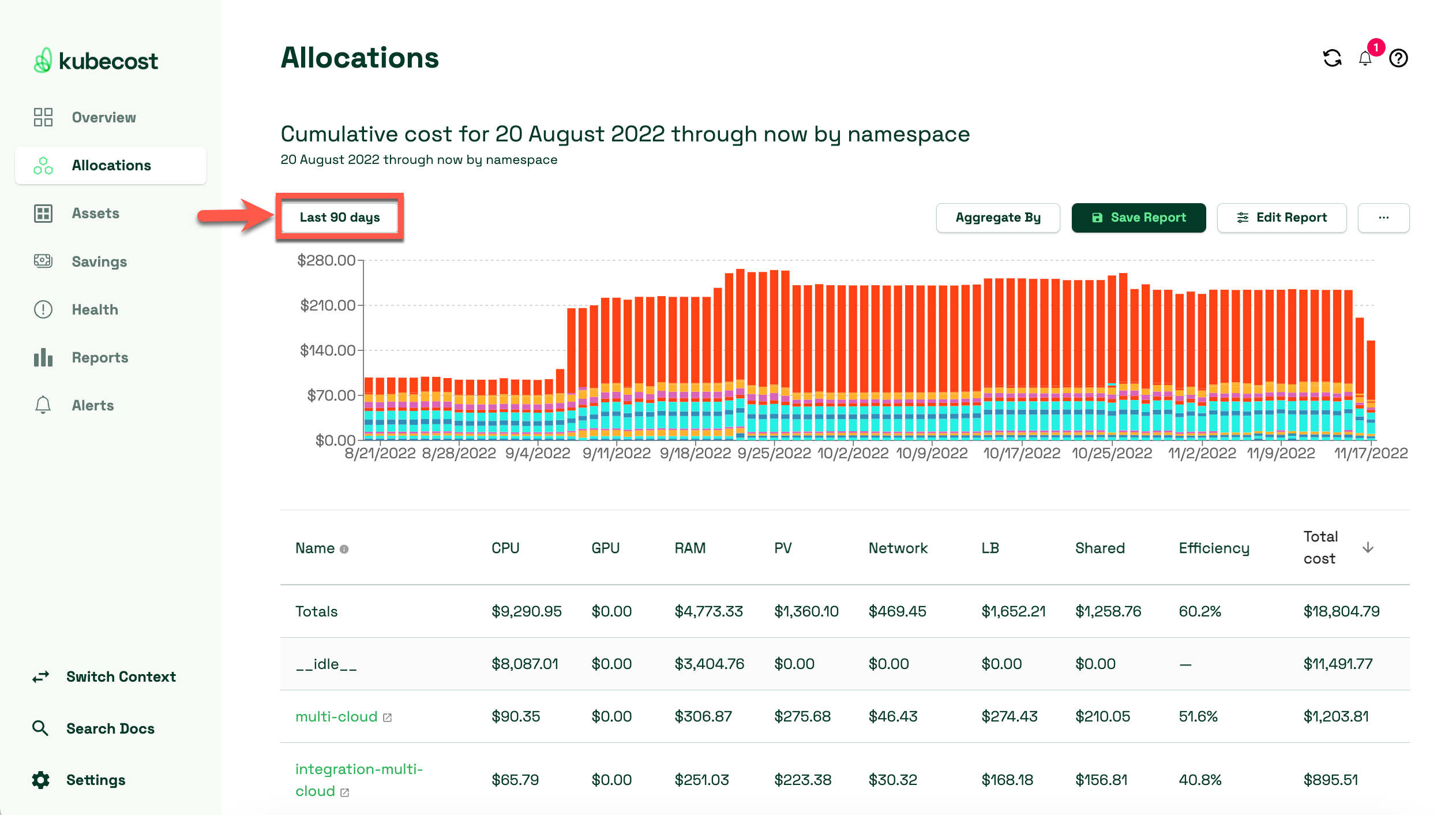 Build a culture of cost savings.
Kubecost Enterprise also leverages unlimited metric retention to propose various cost savings opportunities for your organization. For example, Kubecost will surface 10+ reports to reduce your spend, such as:
Removing unassigned resources.
Identifying underutilized nodes and containers and providing rightsizing recommendations.
Analysis and recommendations for spot nodes.
Identifying reserved instance opportunities for nodes.
By having a deep data set to pull recommendations from, Kubecost is able to produce context-aware recommendations that significantly drive down cost.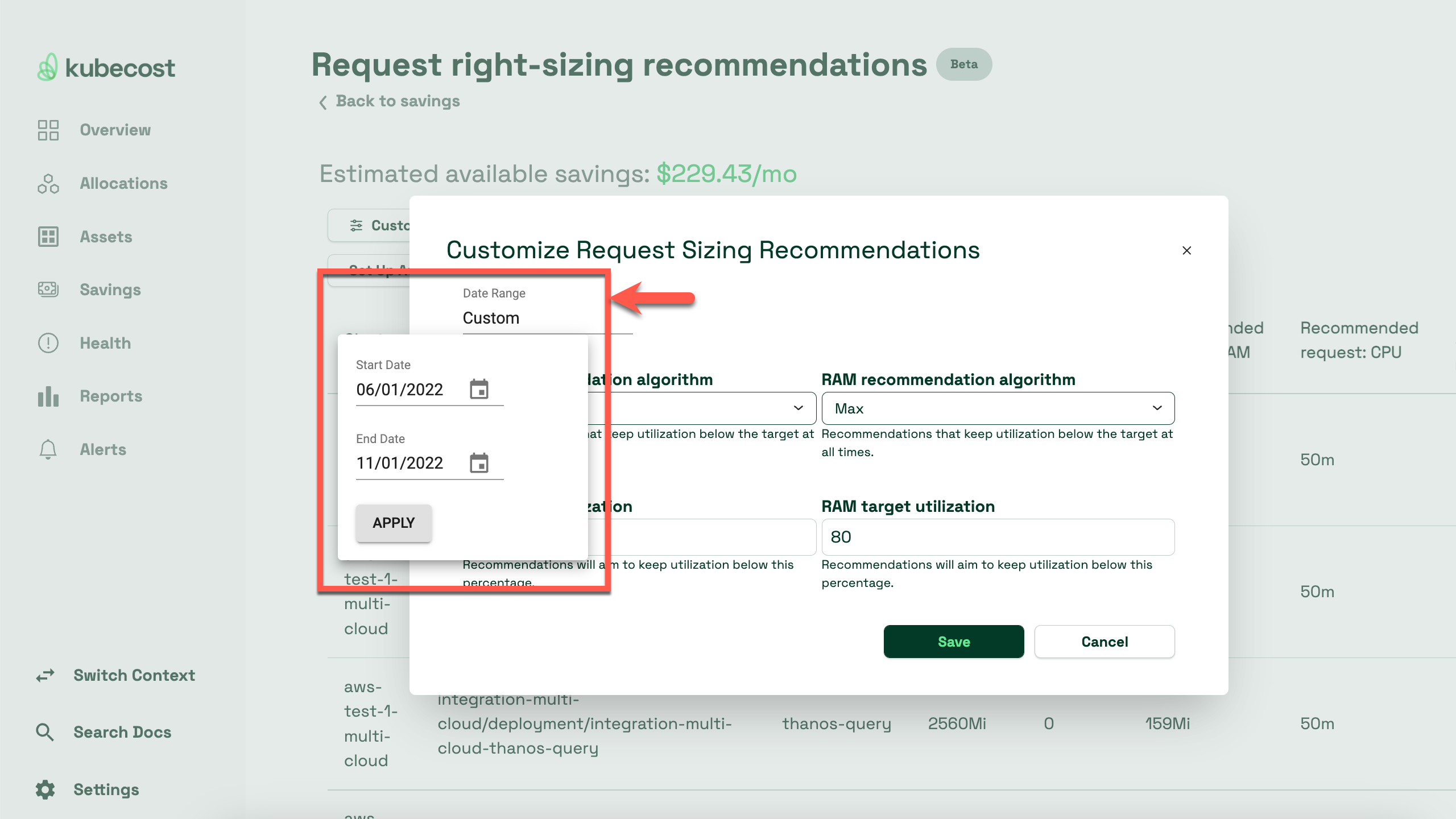 Unified views across cloud and on-prem infrastrucutre.
We know that organizations are in different stages of their individual Kubernetes and cloud journeys. With Kubecost Enterprise, you can ingest costs from multiple different cloud providers or on-premise deployments, and see them all in one central dashboard. Track your costs across your entire environment!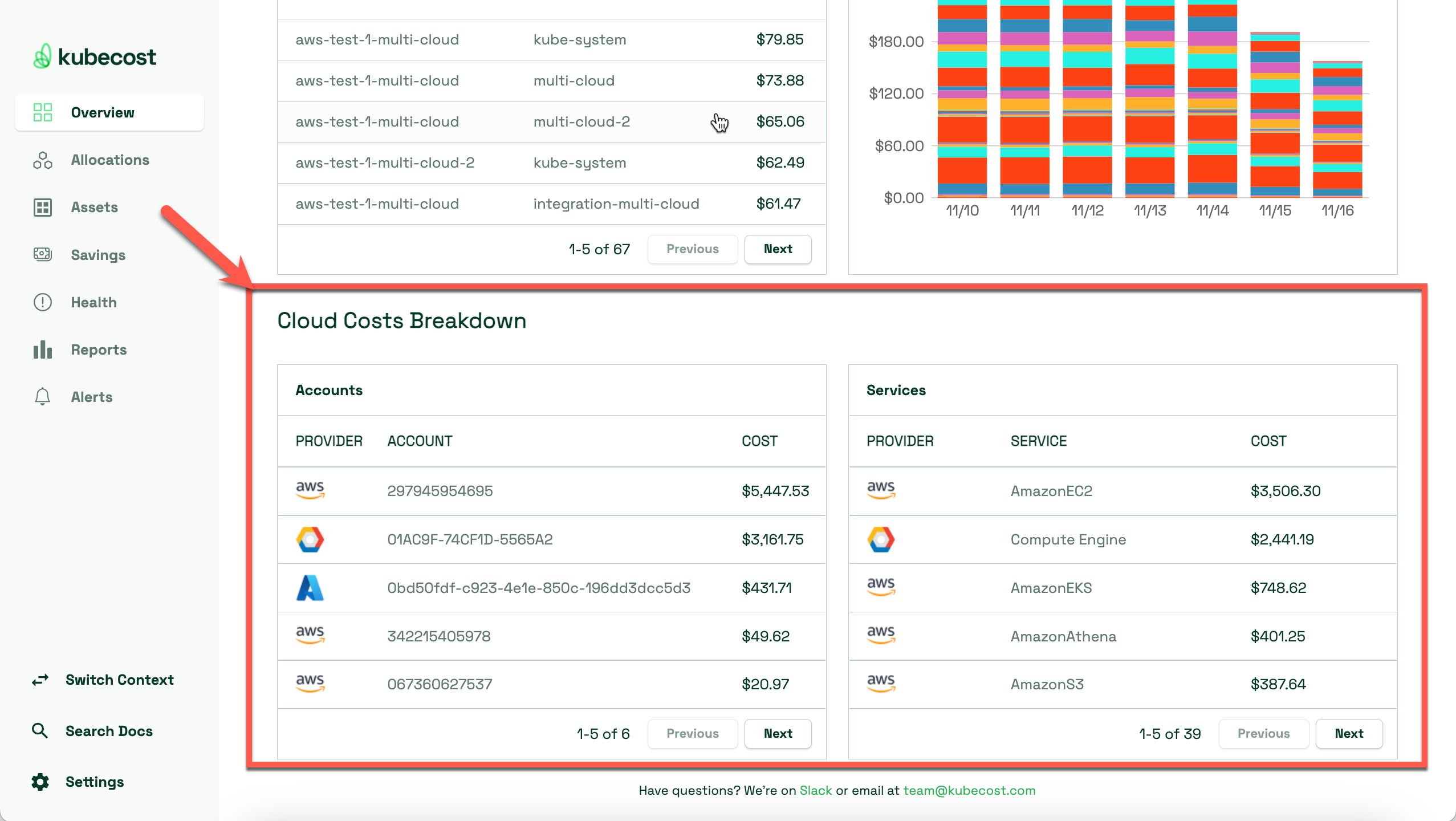 Receive notifications and alerts on cost changes.
Kubecost Enterprise also provides alerts and notifications based on your various reports. For example, if spend is increasing significantly month-over-month, Kubecost will ensure the appropriate people in your organization are notified to take action on those increases.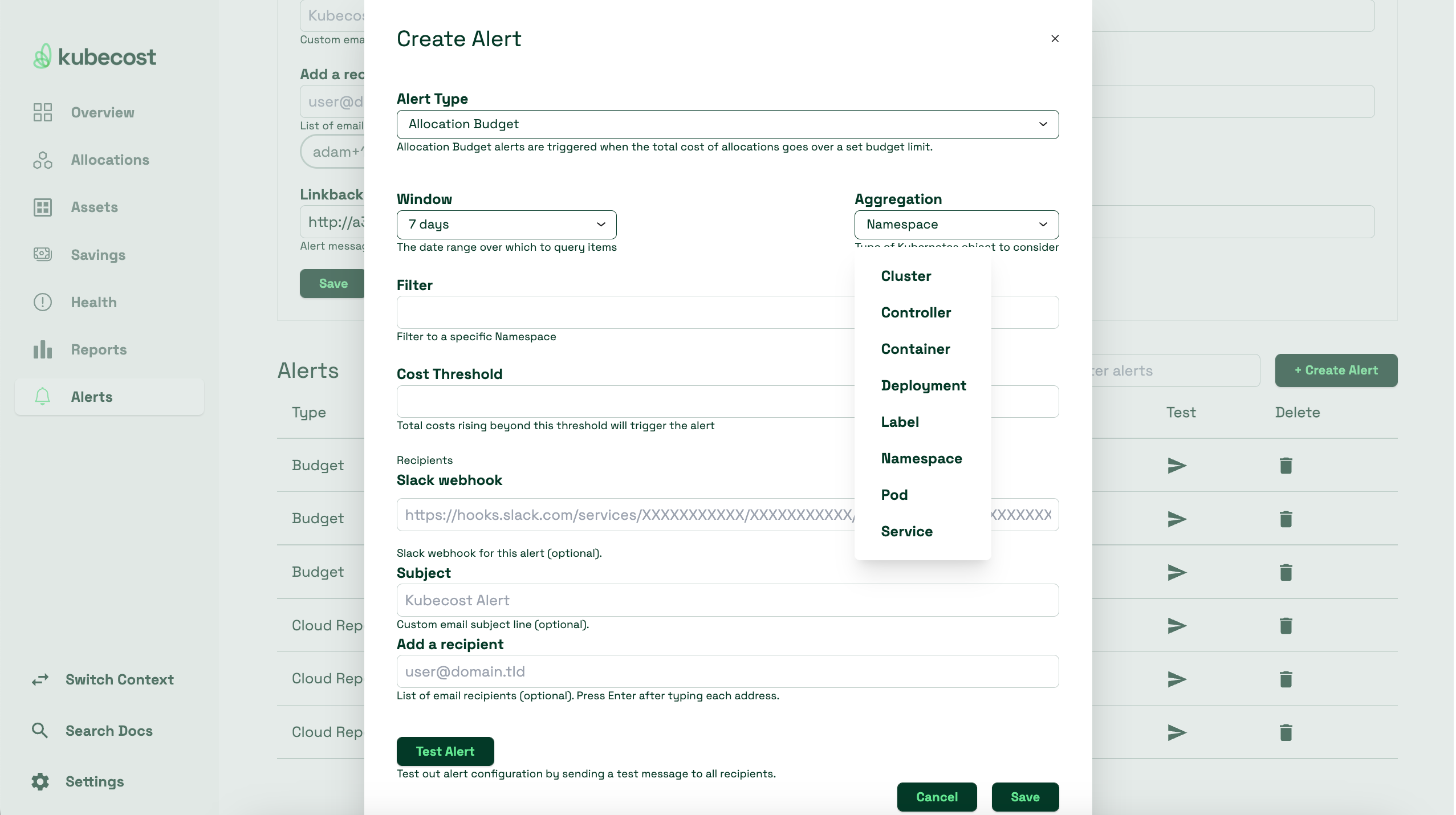 Give access to the right team members.
Kubecost Enterprise allows your team to better control who gets access to the data uncovered by Kubecost:
With Kubecost Enterprise Governance features, you can:
Manage access control with Single Sign-On (SSO) and Role Based Access Control (RBAC).
Integrate Kubecost data with your existing tooling. Give your business teams access to Kubecost metrics in the tools they're already using.
By managing reports by user role, you can build a culture of cost savings and inform leadership of important changes across your organization.
Work with Kubernetes cost management experts
Our team has worked with hundreds of enterprises to help optimize their Kubernetes spend and manage over $3 billion in cloud spend, saving our customers $100s of millions of dollars. With Kubecost Enterprise, you get access to a team of expert engineers and support specialists who can provide insights and advice.
Don't just take our word for it - Join the other leading companies using Kubecost.

We're here to help!
Get in touch with a Kubecost team member to learn more about Kubecost Enterprise or request a custom demonstration.
Join us on Slack if you have questions or feedback, need help, or for general Kubernetes and cloud cost optimization conversation!