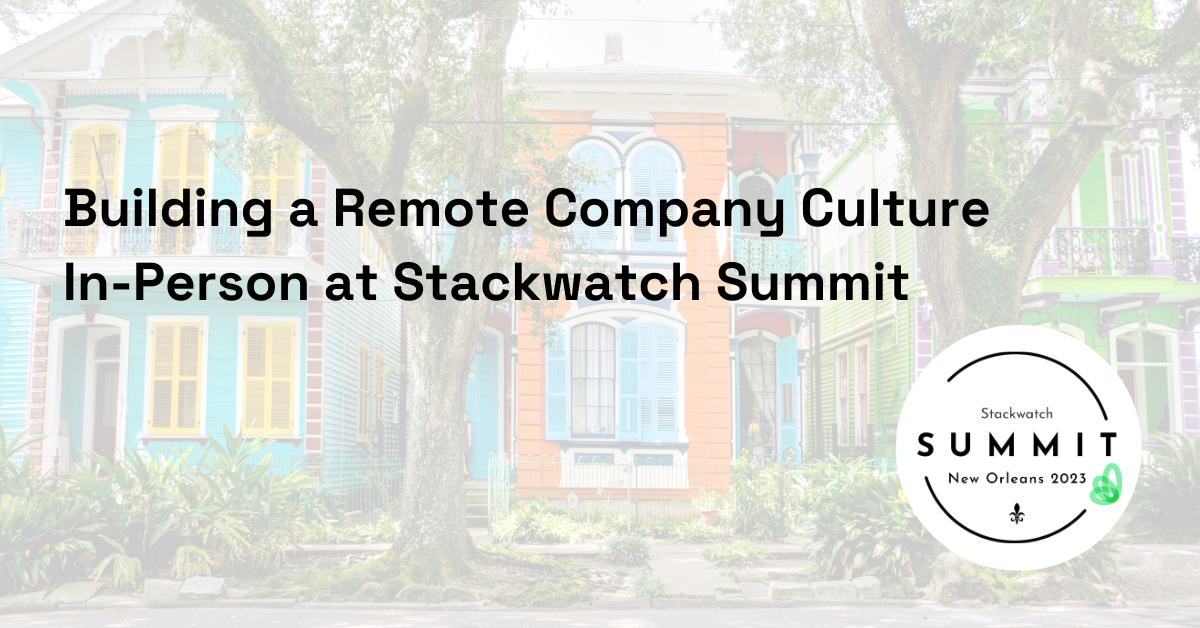 We've historically focused our blog on Kubecost launches, updates and technical topics, and will continue to share the latest news from our Product and Engineering teams! With this post, we wanted to give you a look behind the scenes at the team that builds Kubecost. For the first time, we're turning the spotlight on ourselves and sharing what we've learned about building a remote team culture and empowering our teammates to do their best work.
One of the toughest challenges to overcome as a fully remote team is fostering a supportive and inclusive company culture. How do you build trust, comradery, and—dare we say it?—friendships, when there are so few opportunities for spontaneous social interactions in our daily work environment?
At Stackwatch, creators of Kubecost, we've chosen to prioritize in-person company retreats as a way to grow together and cultivate the healthy culture that informs how we operate.
Every year, we bring our entire team together to host our annual Stackwatch Summit. It's not just any corporate offsite; it's a celebration of company culture, a week of learning, giving, and fun, and an opportunity for team members to gather in person and grow. Stackwatch Summit serves as a powerful vehicle for the team to brainstorm new product ideas and learn about the latest industry trends directly from guest thought leaders, all while setting the stage for the future of our company.
Stackwatch Summit is more than an offsite
Like many startups nowadays, we are fully remote and have a pretty distributed team. Our team members are located across the US, as well as in Canada, Europe, and Australia. As much as technology has made remote work possible, there are still gaps. Even the best emojis might not convey the right feelings, the best graphics cannot fully convey our essential company values, and most importantly, not even the most well-crafted pitches delivered over Zoom can convey the passion our founders have for our product and team.
We see our Summit as much more than just a fun gathering; it's an essential part of Stackwatch's great company culture. Through focused training and brainstorming sessions, the Summit equips team members with new skills, knowledge, and a fresh perspective on our products and users. An aligned and motivated team is essential for a thriving company and business success. After Stackwatch Summit, our team returns to work invigorated and full of new ideas, and a spirit of collaboration and innovation that meaningfully drives great work throughout the year.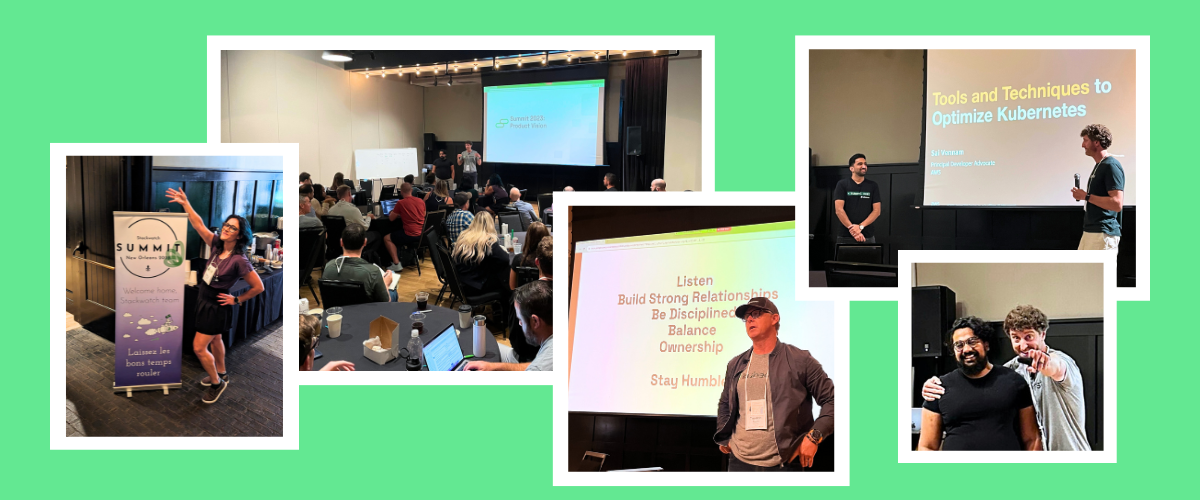 In-house planning maximizes our strong culture
We made the decision early on to "home grow" our own Summit programming, rather than using external consultants or retreat planning companies, because we believe our team deserves activities designed for our unique needs and vibrant company culture. Every year, a cross-functional team of volunteers comes together to plan everything from educational content and whiteboarding sessions, to meals and after-hours celebrations. Not only does this collaborative effort give people a chance to step outside of their day-to-day work environment and contribute in new ways, but it also means every moment of our time together has been planned by the team, for the team—and it shows in the results. Past Summit brainstorms have produced meaningful company outcomes like our initial company culture framework, new ideas for our products, and key insights about delivering value to our users.
Icebreakers, team-building activities, and opportunities to give back to the community create a well-rounded schedule, and all contribute to improved morale rooted in our core values. Each Summit also includes guest speakers hand-selected from our extensive professional networks, whose sessions serve to educate, inspire, and ensure the team hears from a diverse set of voices and perspectives. We also include founder keynotes and healthy company culture discussions, allowing the team to focus on what really matters and foster alignment with the company's vision and direction—a key component for positive employee engagement.
The good times rolled in NOLA
In 2023, Stackwatch chose the vibrant and culturally rich city of New Orleans, LA as the backdrop for our Summit. Known for its lively atmosphere (and delicious food!), New Orleans set the perfect stage for a week of both work and play.
This year, our Sales, Customer Success, and Business Development teams got together on the eve of Summit for a deep-dive Go-To-Market (GTM) training, discussing strategies to delight our users and ensuring the team stays at the forefront of industry trends.
Our first full day together was all about setting the stage, and included a keynote kickoff from Stackwatch's co-founders: our CEO Webb and our CTO Ajay. Our visionary leaders reflected on how far we've come as a company, and shared insights on our mission and vision.
The next day began with a chance to give back, as we partnered with Habitat for Humanity to paint the studs that will go into homes being rebuilt since Hurricane Katrina. This act of kindness not only benefited the local community, but also reinforced the importance of corporate social responsibility that's embedded in our company values. We also dove into interpersonal dynamics, with an all-hands training on building powerful teams, followed by breakout discussions led by our People Ops team. We closed with company-wide brainstorming sessions to spark creativity and generate new ideas for the future of both our product and our company. Since our Summit gives us a rare opportunity to gather our entire Product and Engineering teams together with the people supporting and selling Kubecost, it's an incredibly valuable time to discuss the product roadmap. Beyond identifying new features we want to build and setting new targets for scale, the teams dove deep on user experience and the customer journey, often continuing those conversations over meals and between sessions
On our final day together, our team members took center stage with "Chicory Chats" (our New Orleans-flavored take on Ted Talks) on a wide variety of topics including 3D printing, raising chickens, cocktail making, and even a deep dive into why The OC is the best TV show ever created (it is!). We took time to celebrate our successes over the past year, drove engagement through employee recognition, and also had the pleasure of hosting Sai Vennam, host of the podcast "Containers from the Couch," who brought insights from the world of containerization as well as new ideas on how Kubecost can drive optimization for users. The Stackwatch Summit concluded with a blast from the past as we convened for our annual Stackwatch Cup, a night of spirited competition. Team members, decked out in their best '80s attire, danced to retro beats as we broke into teams for a series of fun games and celebrated together. The festivities added another layer to our positive company culture, fostering a sense of belonging and camaraderie in the best way.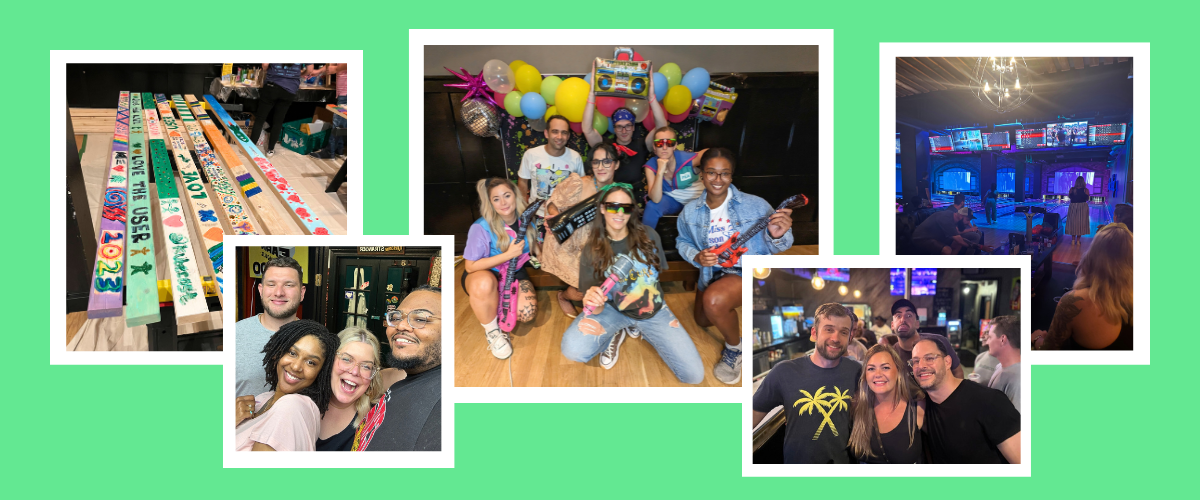 2023 Summit Recap: A week of learning, giving, and fun in The Big Easy
Stackwatch Summit 2023 left an indelible mark on our company culture. By encapsulating the spirit of learning, teamwork, community service, and fun, the summit serves as a cornerstone for our company's core values and continued growth.The benefits of the summit are evident in the high performance seen across the team. Team members returned to their remote office space with a bolstered morale, improved sense of belonging, and contagious enthusiasm for the future ahead.
Crucially, these types of in-person get-togethers enhance employee engagement. The shared experiences of the team members, the knowledge gained, and the memories created during this week serve as a reminder that success isn't just about profits and products; it's the people and the values that bind them together. As we continue to grow, this positive company culture is the foundation of our continued success.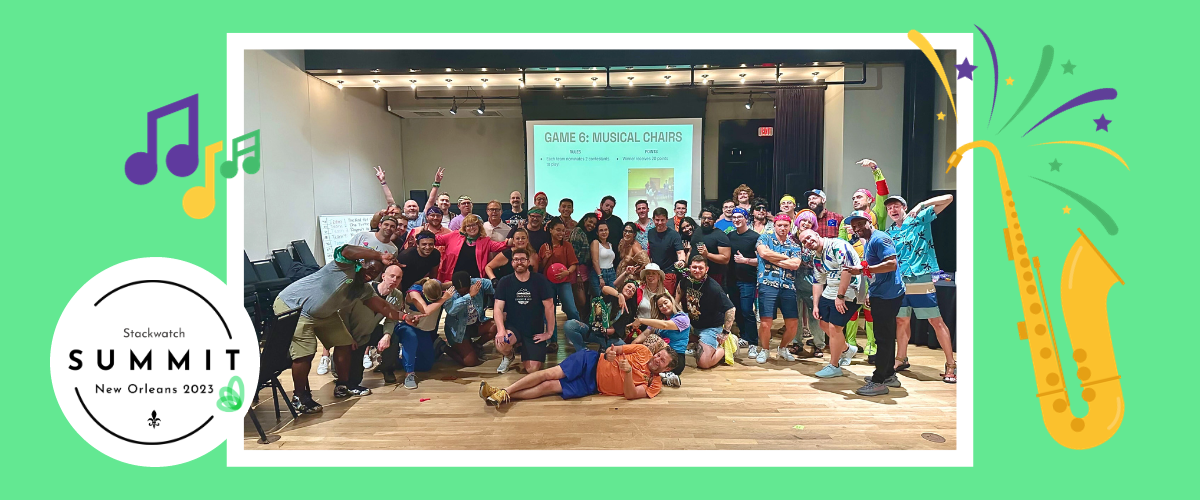 Will you be at the next Stackwatch Summit?
We're hiring!
We are always interviewing engineers, and we are also increasingly looking for new hires in non-technical roles such as Enterprise Account Executives in which you could have a huge impact steering the direction of the company's growth.
Check out our open roles so you can join us before the next summit!