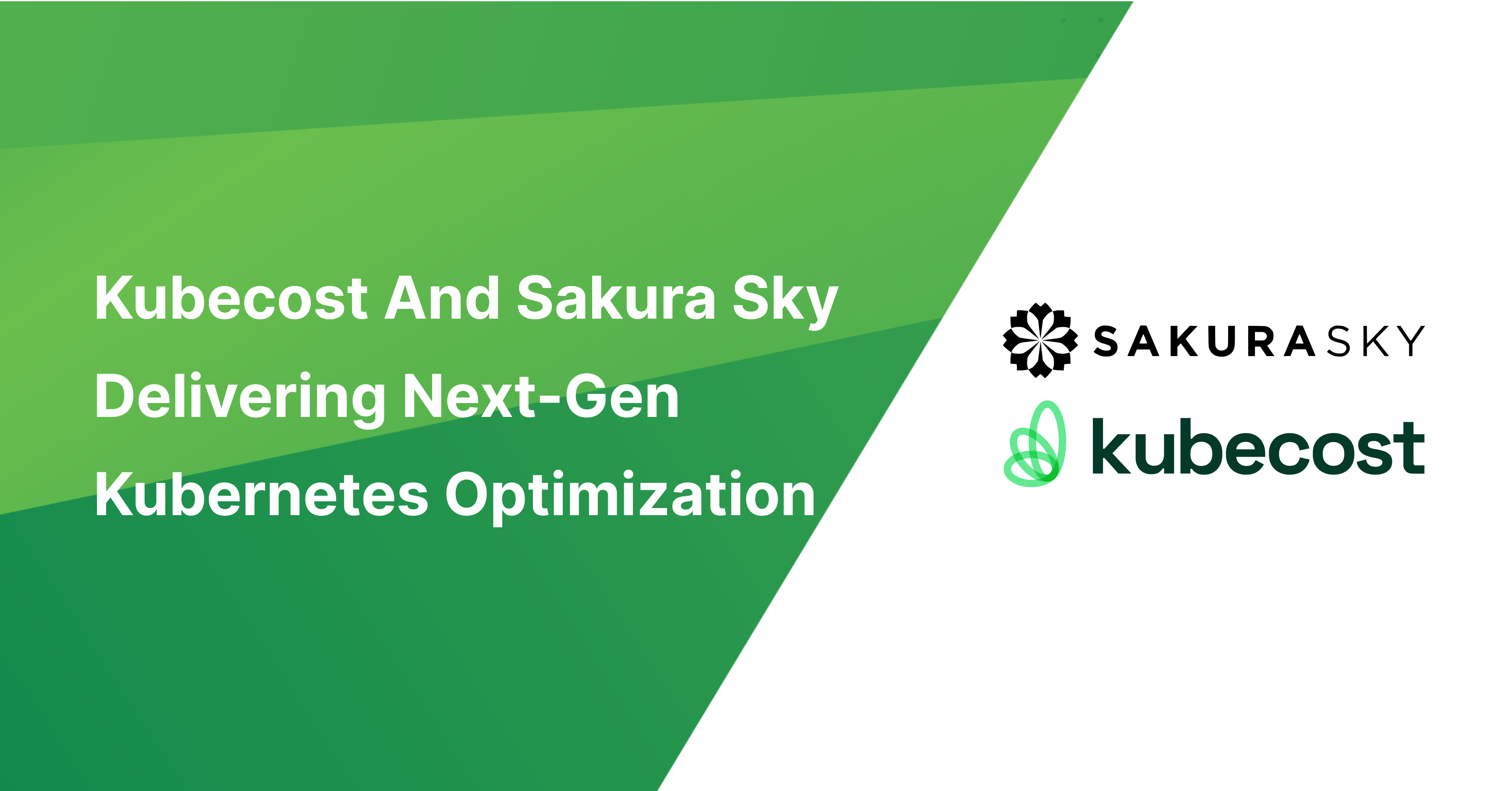 We are excited to announce that we are teaming up with tech consultancy firm, Sakura Sky, to be a leading integration partner for Kubecost in North America.
Sakura Sky will provide customers with quick and reliable implementation of Kubecost. Sakura Sky's extensive experience with Kubernetes, integrated service stacks, and personal use of Kubecost make them the ideal partner to provide best practices for Kubernetes observability across any environment. Whether on-prem or cloud, Sakura Sky aims to improve customers' operational efficiency.
Cost savings are just one facet of an organization's larger mission to optimize their Kubernetes deployment. Companies also require visibility of running specific applications, products, mission programs, teams and more. When launching or updating an existing multi-tenant solution, these organizations need accounting for Kubernetes costs. These companies need Kubecost.
Why we've partnered with Sakura Sky
Sakura Sky understands the importance of effectively managing Kubernetes costs and resource allocations which is what makes them such a great partner for Kubecost. Their team of experts can help organizations unlock the full potential of our platform by providing a range of professional services, including:
Kubecost Setup and Configuration: Sakura Sky can assist organizations in deploying Kubecost within their Kubernetes clusters, integrating cloud providers, and implementing access control mechanisms to ensure a secure and reliable Kubecost installation.

Kubecost Recommendations Implementation: Sakura Sky can help organizations take advantage of the optimization and savings opportunities identified by Kubecost. This includes resizing nodes, deallocating unused resources, and adjusting resource requests and limits to optimize their Kubernetes infrastructure and save money.

Customized Cost Allocation Policies: Sakura Sky can help organizations define and implement customized cost allocation policies tailored to their organization's needs, using Kubecost's native features like cost allocation.

Integration with Existing Tools: Sakura Sky can assist organizations in integrating Kubecost with their existing monitoring and alerting tools to create a unified view of their Kubernetes infrastructure and cost data.

Ongoing Support and Training: Sakura Sky offers ongoing support and training to help organizations better understand Kubecost and its features, enabling them to make more informed decisions about their Kubernetes deployments and cost management.
How this partnership will benefit customers
Sakura Sky provides its customers with hyper focused cloud strategy, implementation and integration support, machine learning and data science, cybersecurity, and training services.
According to Morgan Davies, Senior Partner Manager for Kubecost, "We are thrilled to work with Sakura Sky and bring Kubecost to its extensive list of customers. The partnership will align Kubecost to globally recognized FinOps and DevOps customers, who will gain access to the market-leading Kubernetes monitoring platform."
By leveraging Sakura Sky's professional services, their customers can ensure a smooth implementation of Kubecost, allowing them to gain valuable insights into their Kubernetes resource usage and realize the powerful cost optimizations that come from using the Kubecost platform.
Andrew Stevens, Co-Founder and CTO of Sakura Sky, stated, "We are excited to form a partnership with Kubecost." Through this alliance, Sakura Sky aims to provide its customers with the industry-leading Kubernetes monitoring and cost optimization platform. Stevens added, "We believe Kubecost offers our current and future customers the best way to control, optimize, and reduce the cost of their Kubernetes deployment."
---
If you would like to learn more about Sakura Sky's Kubernetes services, please contact Sakura Sky at hello@sakurasky.com. or visit the Sakura Sky website at https://www.sakurasky.com.