Since its initial launch, Kubecost has aimed to help teams of all shapes and sizes monitor and optimize Kubernetes spending. Our goal has always been to let users take advantage of these capabilities with as little friction as possible with the OpenCost and Kubecost open-source projects. After many user requests and hundreds of registrations for our private beta, we are excited to now announce the public beta release of Kubecost Cloud!
You can get started for free in less than a minute.
What is Kubecost Cloud?
Kubecost Cloud is a multi-tenant SaaS solution which runs the Kubecost Agent locally on your cluster. It provides core Kubecost features to oversee your Kubernetes spending and help you start saving. It supports an unlimited number of Kubernetes clusters and has official support for AWS, Azure, GCP, and on-prem clusters.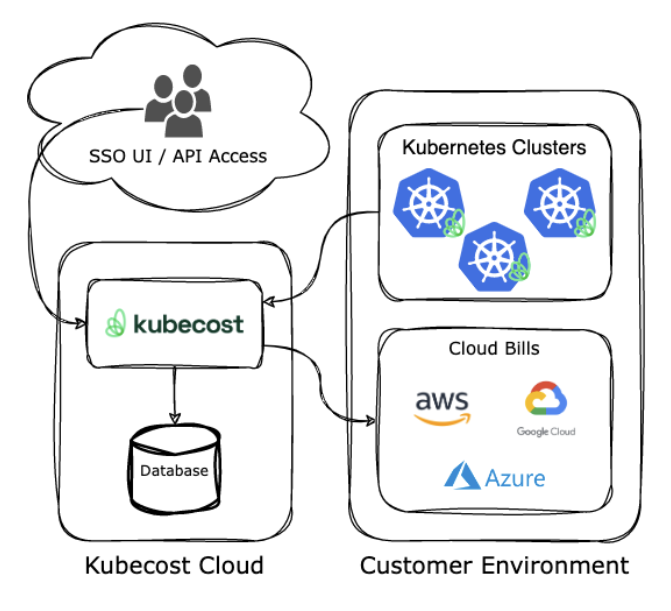 Why Kubecost Cloud?
Kubecost Cloud offers a range of benefits that will help your team monitor, optimize, and govern Kubernetes spend. In addition to the functionality found in self-managed Kubecost, Kubecost Cloud offers ease of maintenance and is highly scalable out of the box. Keep reading to discover all the perks of starting your cost savings journey with Kubecost Cloud.
Scalability: You can start small and add new K8s clusters in moments, while we take care of the rest. We handle scaling the data processing and storage systems to meet every customer's needs.

Security: Kubecost Cloud was built with a security-first philosophy that applies to our entire platform. Our team is constantly monitoring and evaluating security risks to ensure customer's data is secure by default. In addition, the platform has strong authentication in the form of single-sign on and data encryption. To this end, the product is GDPR and SOC 2 Type 1 compliant today. We are currently pursuing SOC 2 Type 2 certification and have regular security audits of the platform.

Simplicity: You will never have to worry about your Kubecost version falling out of date — we handle your routine upgrades for you so you keep getting the latest functionality!

Cost effective: Teams with smaller budgets can take advantage of many Kubecost features. While Kubecost Cloud is free today, we expect paid tiers to be billing on a per node basis instead of a percent of your cloud bill.

Speed and reliability: We're well-versed in operating Kubernetes and Kubecost in large scale environments and will ensure we're never throttled or interfere with client-side performance.
Frequently asked questions
What are we launching today?
Kubecost Cloud, the first SaaS version of Kubecost, is now available for free in public beta. Kubecost Cloud will contain both Allocations and Assets dashboards for monitoring your spending, Saved Reports, as well as select Savings tools.
Does Kubecost Cloud have all the same functionality as self-managed Kubecost?
We'll be adding new features rapidly in the coming weeks to match functionality with deployed Kubecost. Our live documentation also includes everything you need to know about installing Kubecost Cloud, adding your team, and product features.
How much does it cost?
It's free for all beta users! Reach out to cloud@kubecost.com if you want to learn more about future pricing.
What platforms are supported?
Kubecost Cloud can monitor your cloud spending across the major cloud service providers (AWS, GCP, and Azure).
Try it out for free
To get started, simply sign up for the public beta, no credit card needed. It's free, it's quick, and it's scalable. Plus, when you sign up for the Kubecost Cloud public beta, you'll receive some additional benefits as a show of our appreciation: you'll receive 60 days of Kubecost Cloud for free while exploring the exclusive services Kubecost Cloud has to offer. We value your feedback, and so as a Kubecost Cloud public beta user, you will have direct access to our support and engineering teams for any assistance you may need or questions you may have. Plus, early registrants will have the opportunity to receive some Kubecost swag!
We will continue to invest heavily in self-managed Kubecost and Opencost with this launch of our first cloud solution. Contact us at team@kubecost.com for more information.