Learn how Kubecost helps Federal Agencies overcome Kubernetes cost, management, and governance challenges.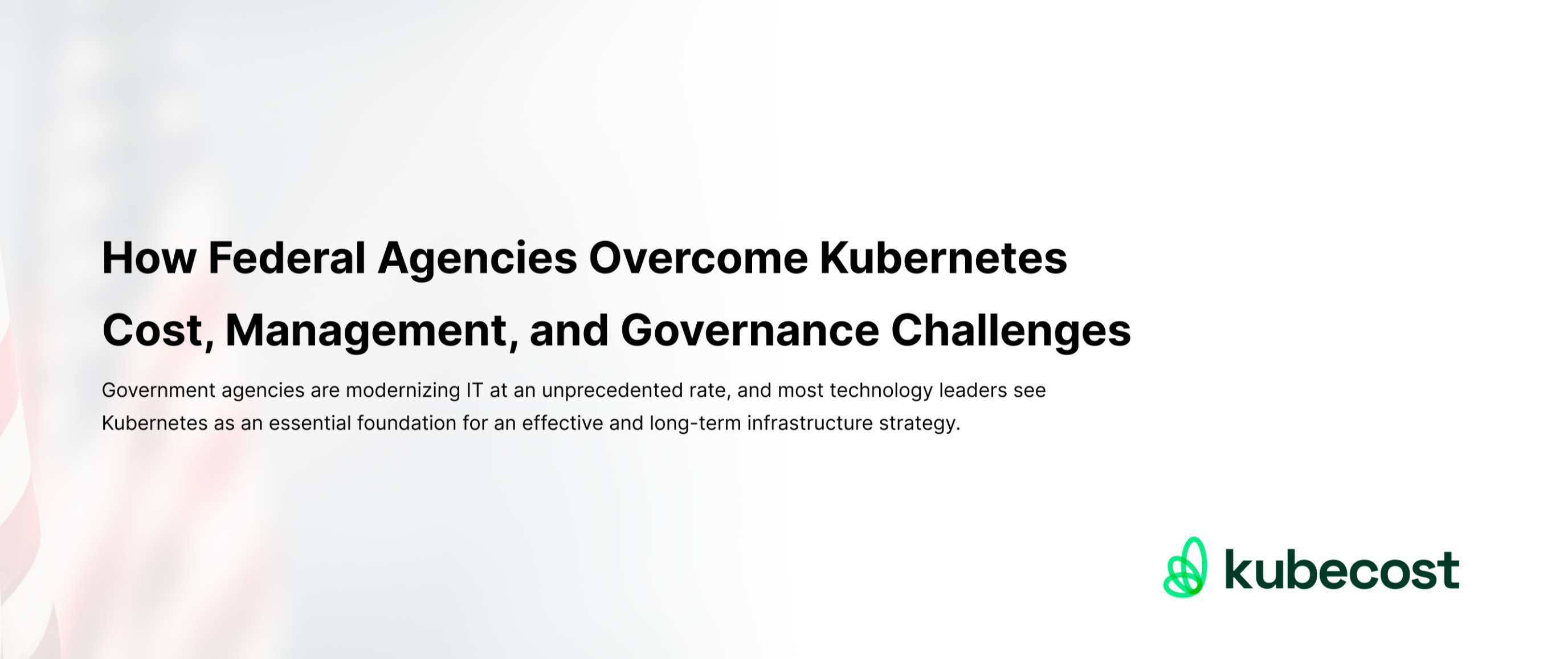 Overview
Government agencies are modernizing IT at an unprecedented rate, and most technology leaders see Kubernetes as an essential foundation for an effective and long-term infrastructure strategy.
Containers enable agencies to modernize existing applications and build new applications that can take advantage of evolving cloud services. A containerized infrastructure allows agencies to develop applications and deploy valuable resources quickly.
"Kubecost partners with many federal and government agencies that are actively transitioning to Kubernetes," said Brian Douglas, Director of Public Sector at Kubecost. "The benefits of a modernization effort range from improved security, faster application deployment, agility to scale, and the ability—when done correctly—to optimize resources."
The Kubernetes cost challenge
Many agencies, regardless of where they are along their Kubernetes journey, realize that managing Kubernetes-related cloud costs is critical to successful deployment.
"Everything is now distributed, and everything is shared," Douglas said. "As things have become more dynamic, it has become much more challenging to understand—and break down—Kubernetes costs. Spinning pods up and down is a key advantage of Kubernetes; tracking costs, especially down to a specific application or feature, is much harder. According to a CIO.GOV report, costs must be "tracked, maintained, and governed while not impeding the delivery of software."
These costs can add up quickly and significantly. The most recent Cloud Native Computing Foundation FinOps report found that less than 20 percent of organizations had accurate showback (detailed Kubernetes spending data sorted by teams) or chargeback (teams must cover the Kubernetes costs they create) programs in place.
"We've worked with federal agencies that were wasting more than 80 percent of their Kubernetes spend before they put tools and processes in place to get those costs down," said Douglas.
Kubecost offers much-needed visibility and control of Kubernetes spending
Government agencies often follow a similar pattern as they mature their Kubernetes implementation.
Usually, cost management comes up early in modernization efforts. Agencies review various manual and automated ways to track and control Kubernetes spending. Cloud cost management tools typically do not provide the depth of functionality to manage Kubernetes costs effectively.
"Agencies are turning to Kubecost because of the depth of our experience, our extensive and active user base, and our reputation in the open source community," said Douglas. "Our tools give agencies exactly what they need to quickly understand Kubernetes spend and where they can rein it in without impacting application performance."
There are a few use cases based on agency maturity:
Gaining cost visibility: Enforcing efficient consumption requires a shared sense of accountability across stakeholders. Government agencies, cloud service providers, price books, and task orders add complexity. For IT infrastructure, the relevant stakeholders are the finance department, DevOps, software developers, and application owners. Government agencies, cloud service providers, price books, and task orders add complexity.

Building a culture of awareness and accountability: Once chargebacks are combined with the most effective cost models, financial responsibility and data-driven decisions lead to a culture of understanding and accountability. Effective processes require tenant-level separation and the ability to deploy costs to a specific CSP.

Optimizing costs: Once the foundations of visibility and accountability are in place, agencies begin optimizing costs. Cost optimization can range from reducing overprovisioning to ensuring a cost-effective ability to scale up or down quickly. Federal agencies work in fast-changing environments that require infrastructure to scale up and down in times such as national security events or natural disasters.

Automating governance: The most mature agencies build proactive and automated governance models. Enforceable governance targets include budget, spending change, and efficiency/usage. Some agencies have struggled to develop their governance frameworks; others use tools such as Kubecost to provide automated remediation and easy integration to Kubernetes platforms.
Looking Ahead
Government modernization initiatives are only increasing: Pressures have mounted from the White House's latest modernization framework Congress has increased federal IT budgets through measures such as the Technology Modernization Fund and the IT Oversight and Reform Account The Pentagon has retooled its software acquisition processes The Department of Defense is implementing a new secure software factory model.
Technology change is coming rapidly to the public sector.
"Kubecost has many successful government customers, and the public sector continues to be particularly ripe for the tools we offer," said Douglas. "We work closely with agencies as we develop our product roadmap and help them through their modernization initiatives."
To learn more
To learn more visit us on our landing page and reach out via the contact us