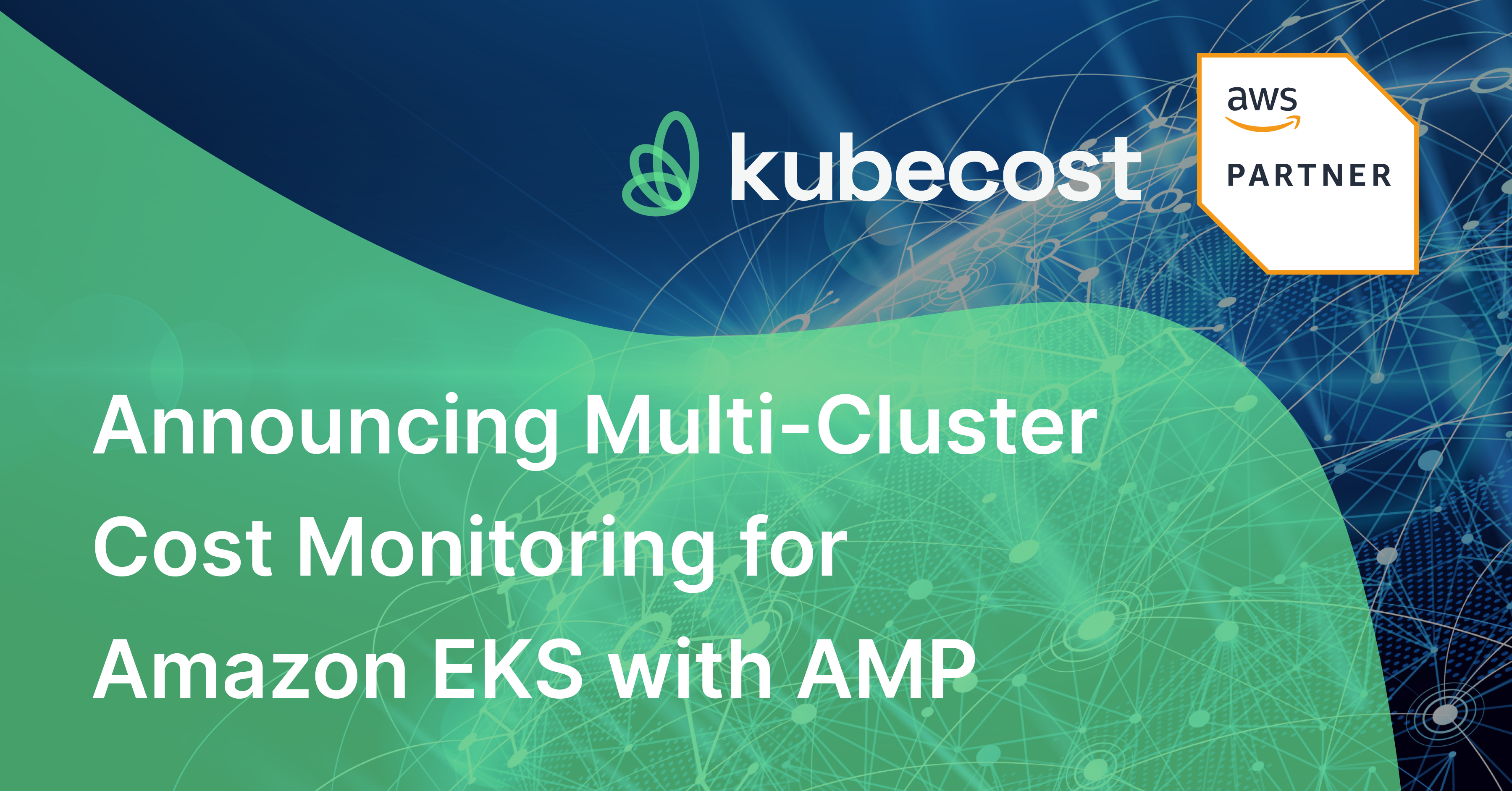 Last year, we announced our integration with Amazon Managed Service for Prometheus (AMP) to provide visibility into Amazon EKS cluster costs, allowing Amazon customers to monitor a single Amazon EKS cluster without worrying about scaling the Prometheus instance. Today, we are excited to announce our new integration with AMP: multi-cluster support.
How is this integration different?
Previously, our integration with AMP provided visibility into a single Amazon EKS cluster's costs, allowing users to dig into their costs at the cluster, namespace, pod, and container level. The AMP integration removes worrying about maintenance overhead of scaling Prometheus to handle your cost data. However, for more complex environments with multiple Amazon EKS clusters running across several regions or AWS accounts, you would need to monitor each cluster individually. With this new integration, you can now connect multiple Amazon EKS clusters to get a complete view of cluster costs in a single pane of glass. Additionally, this integration offers features exclusive to Amazon EKS customers.
Increased visibility with the Kubecost dashboard
Kubecost's comprehensive dashboard provides an overview of all monitored Amazon EKS clusters, as well as any unmonitored clusters: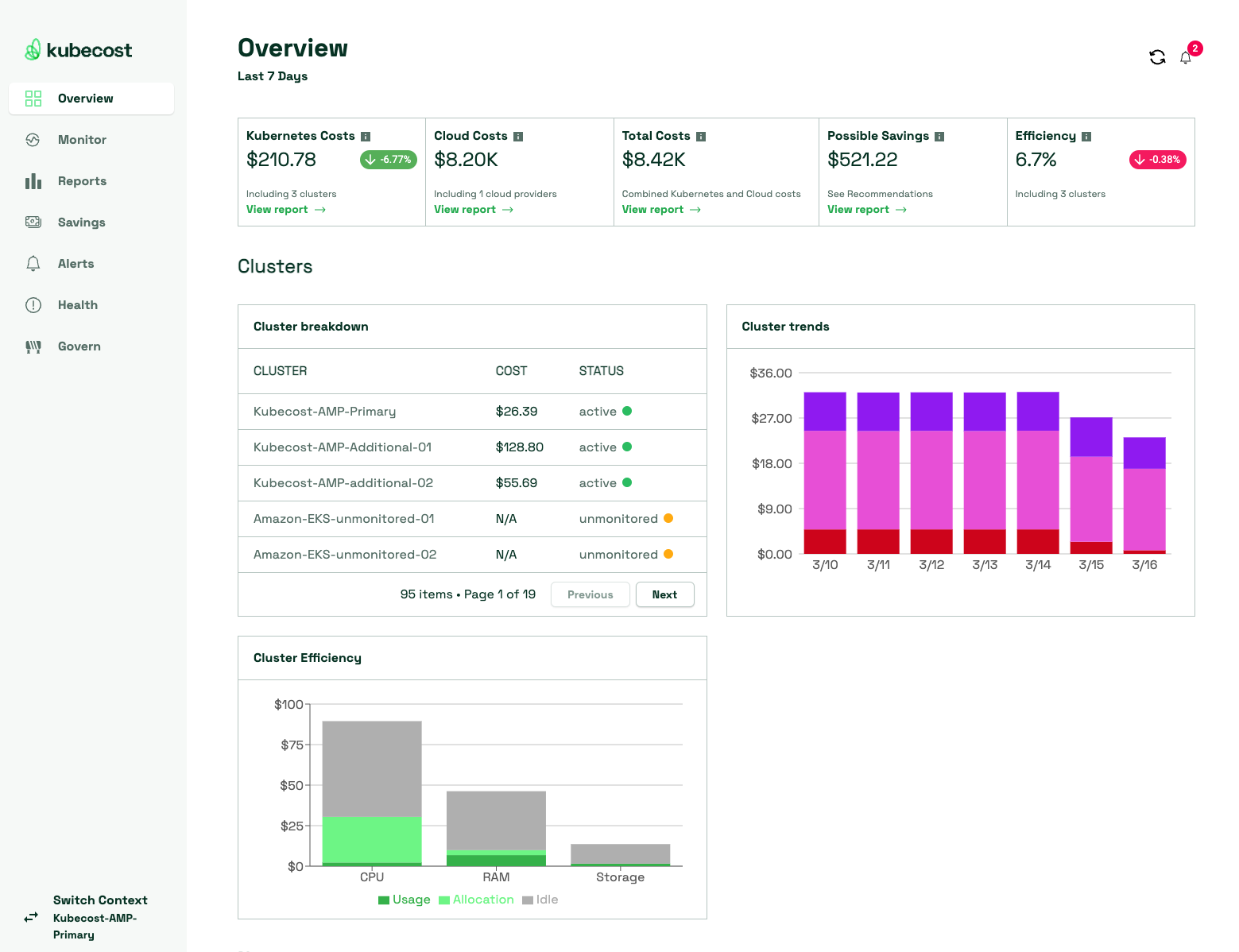 The Allocation dashboard offers granular visibility into costs of multiple Amazon EKS clusters, allowing you to aggregate and analyze costs by various Kubernetes contexts such as namespaces, controllers, pods, or labels. This provides you with a better understanding of how your projects and applications are contributing to your Amazon EKS spend. Moreover, you can integrate Kubecost with AWS Cost and Usage Reports (CURs) to monitor costs associated with AWS services across your accounts.
Additionally, by integrating Kubecost with your AWS CURs and enabling Cloud Costs, you will be able to see costs of each AWS service in a single view under the Cloud Cost Explorer dashboard.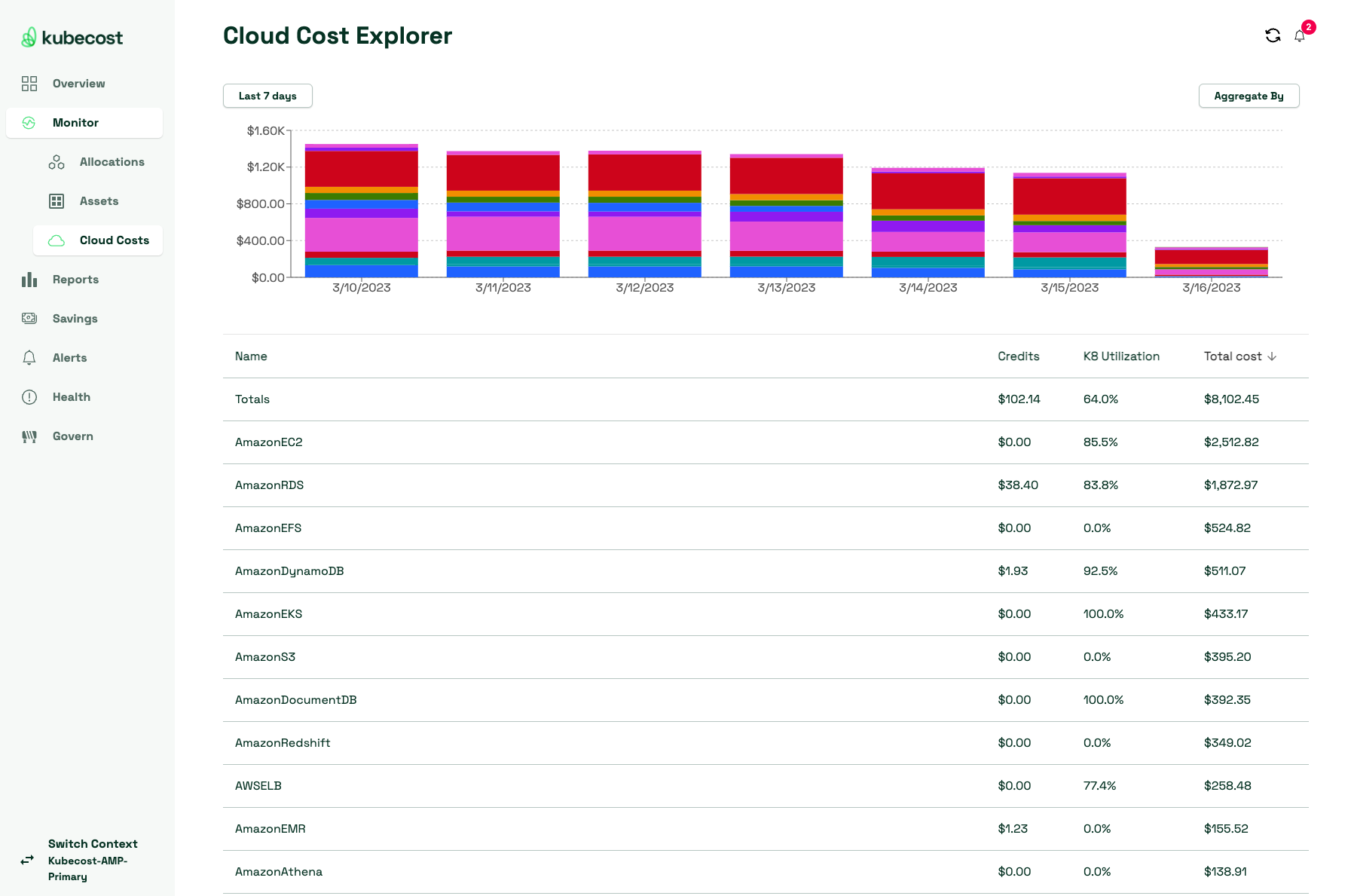 Other benefits of Kubecost's integration with AMP
Since all cost metrics emitted by Kubecost are stored centrally in AMP for multiple Amazon EKS clusters, you can leverage other observability tools supported by AMP to derive further insights. For example, you can create custom cost-related PromQL queries and visualize them in Amazon Managed Grafana. Additionally, utilizing Alert Manager in multi-cluster mode allows for advanced alerting capabilities. Explore the possibilities of these integrations through the Using AWS Observability Accelerator documentation.
Conclusion
We're excited to release this new integration in collaboration with AWS that allows you to monitor and track multiple Amazon EKS clusters costs in a single pane of glass. Ready to get started? Contact us to learn more or check Kubecost out in the Amazon Marketplace.
Want to learn more? Check out these resources: