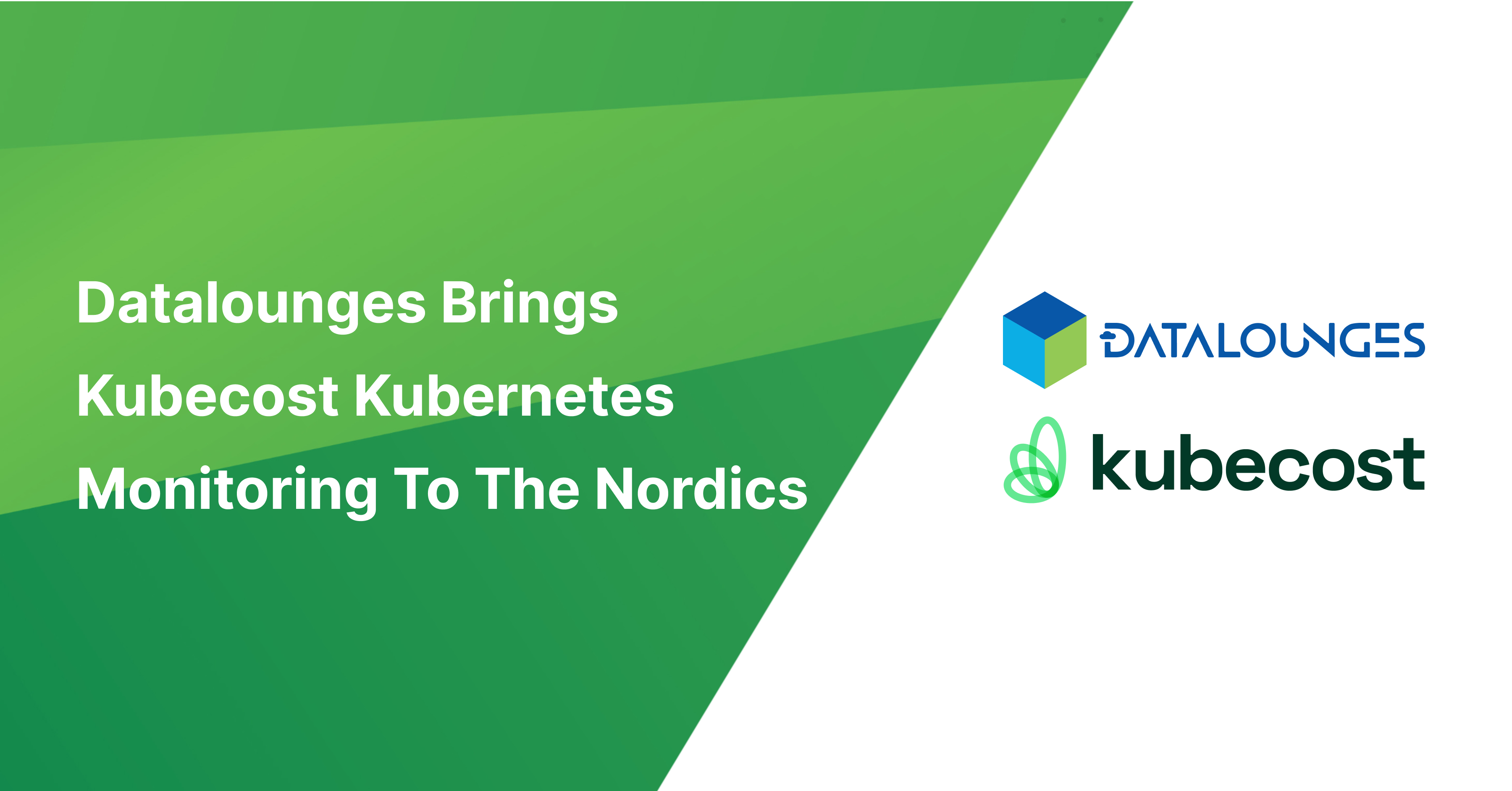 Kubecost, the leading Kubernetes cost management platform, is excited to announce our strategic reseller partnership with Datalounges, a leading Nordics technology and innovation company. Datalounges' Cloud Native Platform Services make it easy and safe to provide great developer experiences, and build, run, maintain and protect cloud native business applications. The partnership will provide businesses with a one-stop solution for cloud cost management and data analytics.
The mission at Kubecost has always been to help organizations gain insight and control over their Kubernetes spending. With Datalounges' expertise in data analytics, we can now offer Nordic customers a comprehensive solution that not only saves them money but also empowers them with actionable insights from their Kubernetes and cloud usage data.
The Kubecost solution provides real-time cost visibility for teams using Kubernetes, while ultimately helping organizations reduce their cloud costs. You can break down costs by any Kubernetes concept, including deployment, service, namespace label, and more. Additionally, Kubecost allows you to connect to any major cloud provider and import your cloud spend directly into Kubecost. Costs can be viewed across multiple clusters in a single view, or through a single API endpoint.
Optimize cloud costs
In today's fast-paced business landscape, organizations are seeking efficient ways to optimize cloud costs while harnessing the power of data analytics. The partnership between Kubecost and Datalounges will offer a unified solution to address these critical needs, allowing customers to streamline their cloud operations and derive actionable insights from their data.
"As Kubecost leads the way for Kubernetes cost management, we are thrilled to partner with Datalounges, a trusted name in the Nordics. They have helped customers oversee and sustain operations in public or private clouds, plus managed the lifecycle of clusters from initial deployment through upgrades to end-of-life applications," said Morgan Davies, Sr. Partnership Manager at Kubecost. "Together, we aim to deliver a comprehensive offering that not only optimizes Kubernetes costs but also empowers organizations with data-driven decision-making capabilities."
The partnership will provide customers with several key advantages:
Cost optimization: Kubecost's industry-leading Kubernetes cost management platform will help organizations identify cost-saving opportunities and allocate resources more efficiently.

Cloud native platform services: Datalounges is the go-to option to empower improved cloud native operations and developer services in the Nordics. The company's services enable businesses to extract valuable insights from their operational and performance data, fostering data-driven decision-making.

Expert guidance: Kubecost and Datalounges will provide customers with expert guidance and support to ensure a seamless experience.
Together we will provide Nordic customers with the industry-leading Kubernetes monitoring platform, which enhances Datalounge's Cloud Native Platform Services.
"Datalounges is excited to partner with Kubecost. Through this relationship, our customers now have access to a world-class, multi-cloud platform for Kubernetes monitoring and cost optimization" said Datalounges founder, Kim Aaltonen. "We believe Kubecost's approach to Kubernetes monitoring is the way of the future and coupled with Datalounges Cloud Native Platform, we are very excited about delivering exceptional value to our customers."
This reseller partnership marks a significant step forward in simplifying the Kubernetes cost management and data analytics landscape for businesses of all sizes in the Nordics. To learn more about Kubecost in this region, please schedule a personalized demo by contacting Datalounges today.